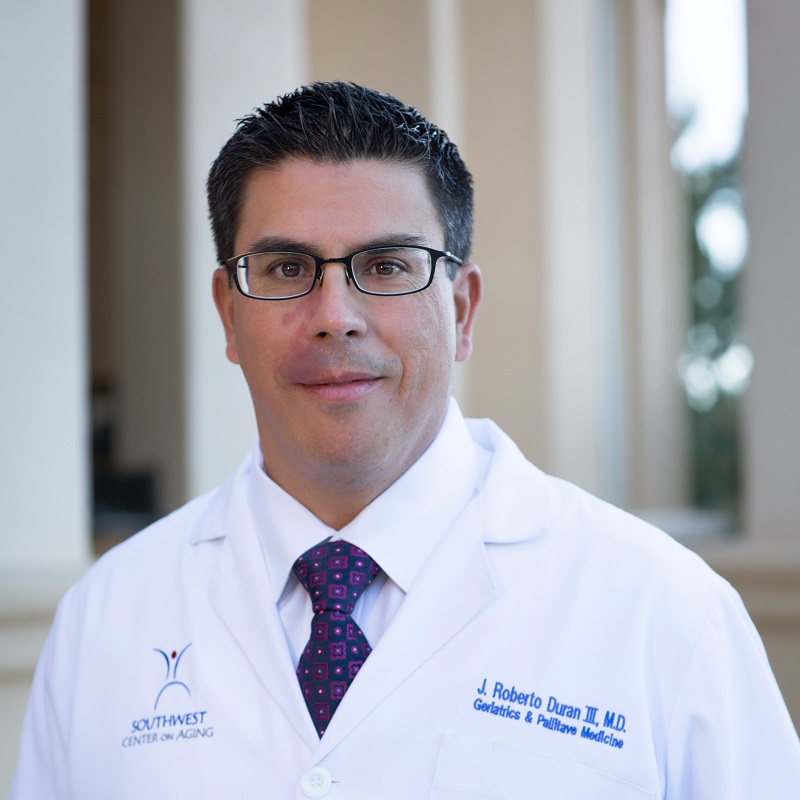 About Jesus R. Duran, III, MD
Highly dedicated, passionate, and goal-driven, J. Robertto Duran, III, is an inspiratioin extrepreneur, scientific autho, and speaker whose sole mission is to leave the world a little better than he found it. As a board-certified professional in internal Medicine, Geriatrics, and Palliative Care, J. Roberto has leveraged his extensive background to revolutionize the conventional preceptions of againg and finally make this reality of the something celebratory
Dr. Duran is the Medical Director and CEO of Southwest Center on Aging, Founder of GeriTalks, and the CEO of Let's celebrate aging. He has over a decade of training, academic, and research experience that has shaped his profound knowledge in his field, including completing his residency in Internal Medicine at Texas Tech University Health Science Center in El Paso, and accomplished fellowships in Geriatrics and Palliative Medicine at Baylor College of Medicine in Houston, TX.
Starting out as part of the medical staff at the Methodist Hospital and a postdoctoral fellow in Echocardiography at the Methodist DeBakey Heart Center in Houston, TX, Dr. Duran has certainly come a long way to become the leader he is today. His dedicated work has been recognized several times, winning him awards such as The Young Investigator Award by the Geriatric Cardiology Society in 2006 and nominations including for Chair of the Fellow Intraining Committee of the American Geriatric Society during his fellowship. In addition, he was also appointed the Clinical Associate Professor at the University of New Mexico and the Burrell College of Medicine in the Department of Internal Medicine and Geriatrics. He has been Medical Director of multiple Nursing Homes and he is currently Medical Director for Home Health and two Hospices in Las Cruces, NM.
Dr. Duran has an impressive inventory of success and mastery when it comes to the medical field. However, the journey he enjoys the most is managing and operating his businesses and leaving a lasting mark in society. As someone with a substantial background in medicine and a fervency towards enlightening others on the beauty of aging, Dr. Duran has demonstrated himself as being the pioneer in fostering positive change, and it will be exciting to see how the world finally begins to shift their views due to his efforts.
Though Dr. Duran loves what he does, when he is not working, you can find him spending precious time with his wife, two daughters, and son. As an avid golfer, he also takes joy in being a caddie for his son, who plays competitive golf.